📢 【CFP】 10th International Forum on Industrial Bioprocessing (IFIBiop 2022)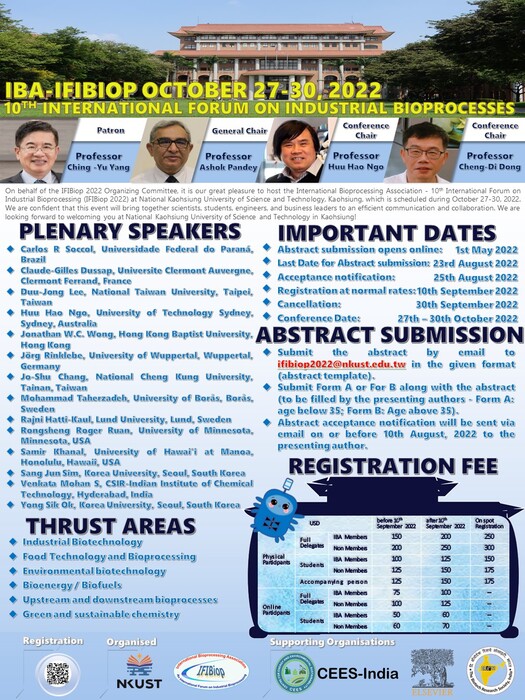 ABOUT THE CONFERENCE
On behalf of the IFIBiop 2022 Organizing Committee, it is our great pleasure to host the International Bioprocessing Association - 10th International Forum on Industrial Bioprocessing (IFIBiop 2022) at National Kaohsiung University of Science and Technology, Kaohsiung, which is scheduled during October 27-30, 2022.
We are confident that this event will bring together scientists, students, engineers, and business leaders to an efficient communication and collaboration. We are looking forward to welcoming you at National Kaohsiung University of Science and Technology in Kaohsiung!
The Conference website URL: https://ifibiop.nkust.edu.tw/
TOPICS OF INTEREST
1- Industrial biotechnology
2- Food Technology and Bioprocessing
3- Environmental biotechnology
4-Bioenergy/Biofuels
5-Upstream and downstream bioprocesses
6-Green and sustainable chemistry
Abstract submission Email ID: ifibiop2022@nkust.edu.tw
- Submit the abstract by email to ifibiop2022@nkust.edu.tw in the given format (abstract template).
- Submit Form A or For B along with the abstract (to be filled by the presenting authors - Form A: age below 35; Form B: Age above 35).
- Abstract acceptance notification will be sent via email on or before 23rd August 2022 to the presenting author.